Bing Maps is an online map and part of the Microsoft Bing search engine. Most internet users are familiar with Google Maps and the Microsoft version is no different in that it provides you with:
Street maps (road, aerial, and bird's-eye views)
3D maps
Venue maps: View the layout of a venue
Directions (driving, walking, biking, and public transit)
Traffic information
Embedded Maps (share on your own website)
If you're a regular reader of InboundMD articles you'll know that we are constantly stressing the importance of Google My Business listings which also include how your business appears on Google Maps.
Bing Maps is also an important tool for listings management and not something that you should ignore because it doesn't seem as popular as Google. The Bing Maps search box allows you to locate businesses, services, and people.
Hospitals Rely on Microsoft and Internet Explorer
Hospitals are still using Internet Explorer and Bing is the default web map. Bing Maps may not be as popular but people still use it, including patients.
Hospitals are still using Internet Explorer.
If you're making a face right now, I swear, I'm not making that up. To prove it, just read these headlines:
According to Duo, a security solution company, Internet Explorer is "healthcare's browser of choice:"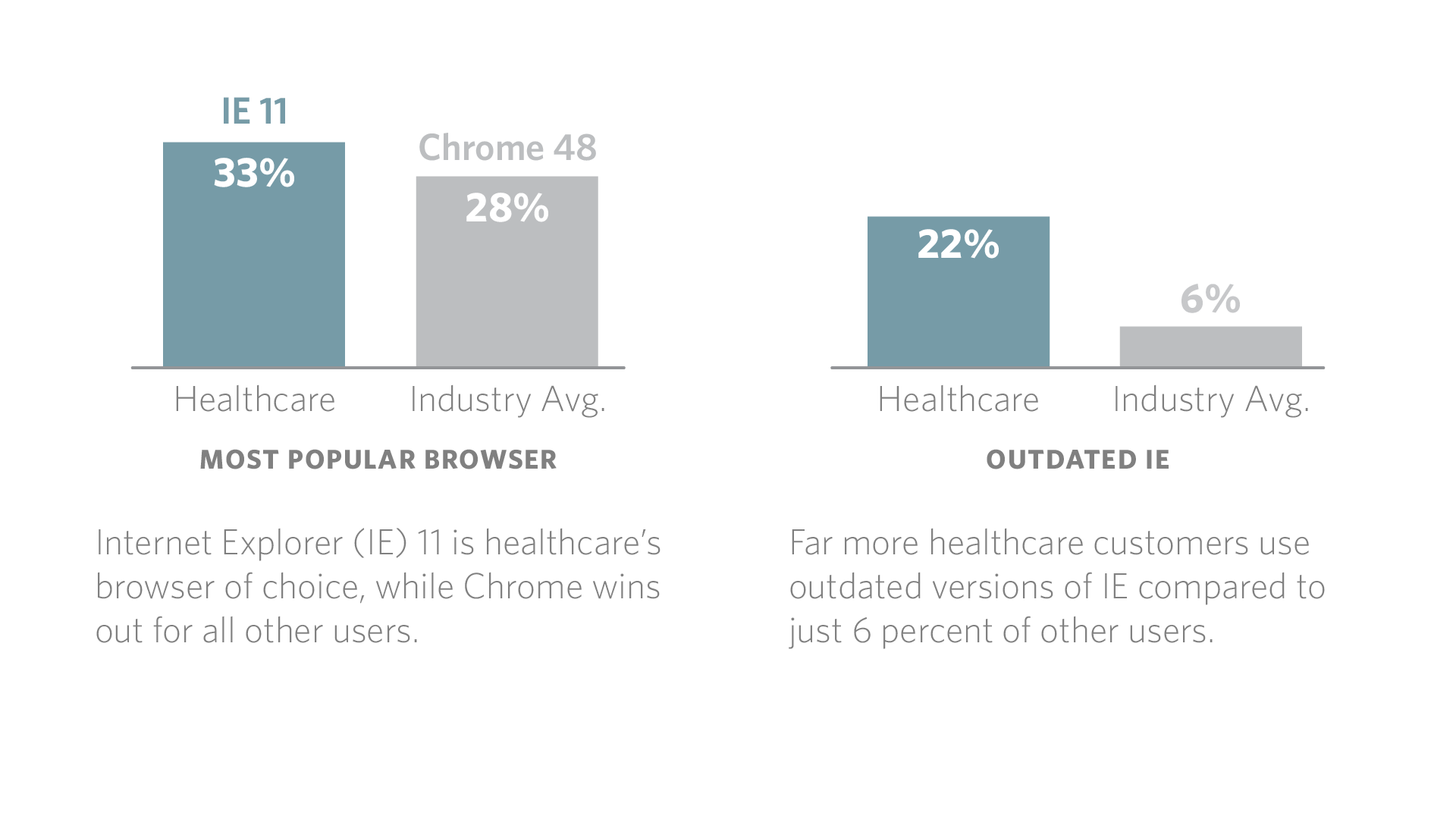 Thu Pham (@Thu_Duo), Information Security Journalist for Duo, provides some additional eye-opening stats:
Healthcare customers choose Internet Explorer 11 as their preferred browser, compared to the latest version of Chrome for other users
Another 22 percent of healthcare customers browse dangerously on unsupported versions of IE
It's a Windows shop at healthcare organizations, at 82 percent. Ten percent of healthcare customers are on Windows 10, another three percent run the unsupported version of the operating system, Windows XP
The healthcare industry has a notorious reputation for being slow to change when it comes to technology. Technology that people hate, like faxing, is still HIPAA compliant and as Pham notes, "Microsoft is still providing extended support and security patches through 2020" for Windows 7, even though mainstream has already ended.
As one SpiceHead on Spiceworks said so eloquently, What is it with the freakin' hospitals not updating their systems?
Hospital IT departments don't have the impetus to make wide-sweeping changes.
Why Your Practice Should be on Bing Maps
Listing accuracy is important for no what directory you are listed on. Bing Maps is just as important as Google Maps and Apple Maps.
Any local map listing is not only free but will greatly increase your visibility to patients who are searching for doctors just like you.
You never know what device or operating system a potential patient is using so it's best to cover all your bases. For you doctors that are affiliated with a hospital system, Bing Maps won't be a stretch for you since you're probably used to dealing with the vagaries of Microsoft.
But, enough picking on Microsoft.
Bing is the number two most popular search engine with an Alexa Rank in the low 20's and an estimated 400 million monthly visitors. Google has a comfortable lead in the number one position but Bing Maps and Bing Places for Business shouldn't be discounted because it's another piece to the puzzle, offering different benefits to patient acquisition.
Benefits of listing your practice on Bing:
Millions use Bing every day, hundreds of millions of people use Bing every month.
Bing is owned by Microsoft, making it the default search engine on every Microsoft powered device.
Your Bing Places profile and Bing Maps automatically includes data from your practice's Yelp profile.
Setting up your listing is simple and free.
How To Set Up Your Bing Maps Listing
There are three simple steps to setting up your Bing Maps listing:
Claim your listing
Complete your listing profile
Verify your listing
Here are the two websites that you'll need to visit to complete this:
Bing Places for Business Dashboard (for verification)
Watch the video below for full details: