Navigating the complicated world of Google and their ranking algorithms isn't easy. Add a busy practice on top of that and it can seem even harder to keep up, but Google's latest tool shouldn't be pushed to the back burner until a better time arises. The best time to hop onto Google My Business Posts is now, and you can consider this blog your definitive guide to everything you need to about using this tool to grow your practice successfully.
Initially made available for celebrities, sports teams, entertainers, and presidential candidates, Google My Business Posts is now open for businesses from any industry to share their news.
Even in these early days, it's clear to us that the medical field, in particular individual and group practitioners, have an especially large amount to gain from being early posters with this feature. Google has even made using this new tool easy by allowing users to post directly from their Android and iOS devices using the Google My Business app in addition to traditional web-access.
So what exactly is Google My Business posts? Consider it your newest blogging and news platform that can broadcast to into Google's search results directly. It marries local search, SEO, and the concept of blogging to create an even more influential platform, as posts can boost your industry authority, search rankings, and overall value to patients who are searching for the information (and services) that your practice provides.
SEO as a Part of Marketing For Doctors (And How Google My Business Posts Will Work For You)
We're all about using SEO strategies to boost the business that practices get so, ultimately, more patients can get the information and care they need. Though there are dozens of points to keep in mind when working to build the SEO value of medical practices, many offices and providers seem to rely on the old "word of mouth" and referral method of marketing to get patients in through the doors.
That's why creating a plan and executing on strategies is so important – because you can keep your practice ahead of the curb by reaching patients during their first steps of online research. And, if you really want to get down to the foundation of how and why Google can dictate how many people find your practice's website, you can download our guide on the anatomy of Google's Search Results page.
Google My Business Posts and Your Marketing Strategy
Focusing your healthcare marketing efforts on increasing your rankings, getting more reviews to boost the trust in your practice, ensuring that your online business listings are correct, and managing your practice's online reputation are all ways to improve your practice's relationship with Google. But creating useful content, like blogs, that answer the questions patients are searching for and getting backlinks from other websites should be part of your strategy to increase traffic to your site organically.
The line between Google's pay-per-click ads, which allow you to pay for ads to be placed at the top of the search results page, and having certain pages rank organically is vast. Now, Google My Business Posts is bridging that gap and allowing you to create content that can be broadcast directly to prospective patients without needing to run a pay-per-click campaign for each post you'd like to share. All you need to do is publish your new post and it'll appear under your practice's profile in Google's search results.
Google My Business Posts going live marks a big shift in the local SEO game that doctors will want to take advantage of.
The Definitive Guide to Google My Business Posts
Google has changed a lot of things over the years. We now know that gearing your practice's online presence to the local area you serve is key in ranking for those areas – and that's how prospective patients can find you. Google My Business Posts is another tool that should be added to your repertoire of local SEO tactics.
What are Google My Business Posts Used For?
Traditionally, blogs were the premier format for getting information to patients. Though this still holds true, you won't want to just use your blog and social media platforms to achieve this result. Now, Google My Business Posts will be the way you can broadcast information to appear in an aesthetically-pleasing and eye-catching format in Google's results and maps.
Great for posting seasonable sales, trending topics, and other news, here are some foundational topics you can use My Business Posts to spotlight:
Written answers to commonly asked questions
These posts most closely follow traditional blog posts used in healthcare marketing, except now they are specifically targeted to appear when someone in your area searches for that term.
Promotional offers
If you have a seasonal special for flu vaccines, for example, My Business Posts is the perfect platform to capture a local audience that is looking for your exact offer. Once clicked on, these posts will expand to show your entire message. The best part? Google My Posts allows you to add a "Get Offer" or "Learn More" button to further draw people in.
Promoting Newsletters or Events
Because Google My Business Posts has features that allow you to add call to action buttons, you can easily have a "sign up" or "reserve"
Relevant Healthcare Topics
Google My Business Posts is a great way to advertise your latest blog post without needing to pay. You can do this by publishing it through the Posts feature, adding an eye-catching photo, your title, and a lead-in that is accompanied by a "Learn More" button. These buttons will then link back to any page you wish, including the blog on your website, making it the perfect way to drive traffic back to your site.
Though each post will expire in 6 to 7 days, My Business Posts is an excellent tool that provide your practice the opportunity to stand out from competitors and advertise appealing offers and information. Each post also comes equipped with a "share" button, so patients can share your post, offer, or even to their social media platforms for an even wider reach.
How Google My Business Posts Can Give You More Insight
One of the most major features that Google offers to business owners is Analytics, and they have kept this in mind when designing the Posts tool. Every post that you boost through Google will give you insights into how that post is doing, giving you everything you need to know about how well your strategies are reaching patients.
As with Google Analytics, knowing exactly how your prospective patients are interacting with these locally-targeted posts is key in making changes that they may react better to. Photos can help attract the attention and boost the value of your practice to prospective patients browsing through local practices before deciding on where to schedule their appointment.
Our Prediction: Google My Business Posts Will Change The Way You Get Patients
This feature is just the latest in Google's toolbox of cutting-edge SEO technology. It's our business at InboundMD to make sure that your online presence and content is high-quality and bringing people in. Google My Business Posts, though new, is at the forefront of our focus and our successful clients, like The Center for Advanced Reproductive Medicine & Fertility.
Dr. Ava and Dr. Pruzansky will be adopting Posts as another way to communicate with clients.
We know that, when your My Business account is completely finished, engagement rises and patients are more likely to follow-through with an office that has high reviews, has taken the steps to be Google Guaranteed, and appears within the local 3-pack. Posts is an extra feature that allows prospective patients to really see your levels of engagement and scope of knowledge while browsing.
Similarly, the buzz around a new Google feature, and the aesthetic looks of these new post boxes within the Google search results is certainly an eye-catcher. Similarly to how the local top 3-pack draws customers in, the Posts feature is capable of adding an entirely new level of authority to your practice's online presence.
How You Can Set Up My Business Posts And Begin A New Kind Of Healthcare Marketing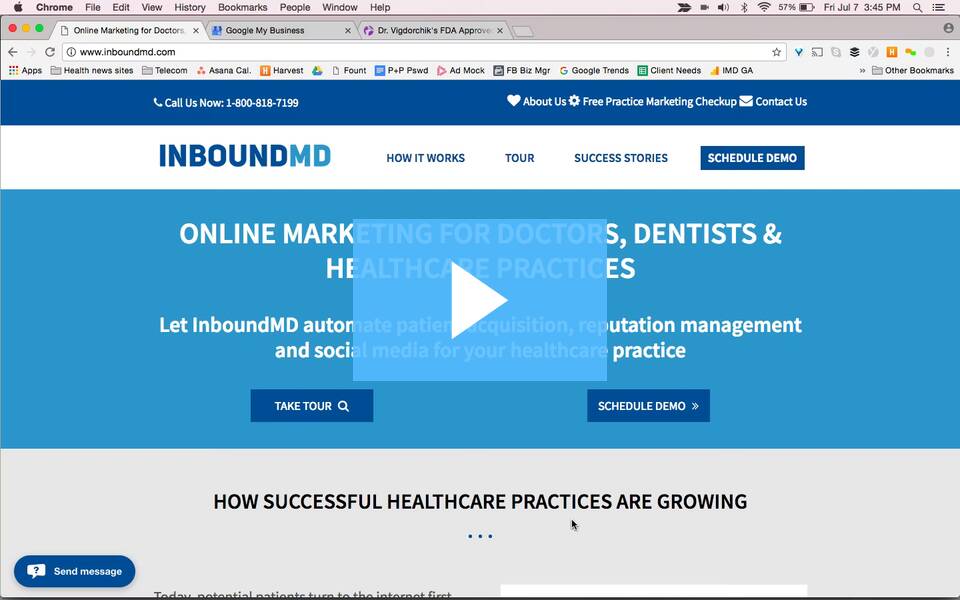 Before You Begin, Here's What You Need
Have your Google My Business account set up and verified
If you have more than one practice or location, select the one you would like to post from by clicking "Manage Location"

Step One
Once on your My Business homepage, locate the "Posts" tab on the left-hand sidebar.
Step Two

Once you enter the Posts tab, your screen should look a little something like the image above. As you can see, Google has kept the Posts interface simple and straightforward, making posting easier than ever.
Step Three

To create a new post, all you need to do is click into the "Write Your Post" window.
At this point, the Post window will open and you can expand it to access all of the available options for each post. You can see what this looks like, and what options you'll be given, below.
Step Four

It's at this point where you'll be able to upload an eye-catching photo, write the body of your post, and add a button with the link to the page that contains the blog, offer, or topic you are featuring.
You may also set the days for this post to run, as well as the times it starts and finishes on. Remember that, at this point, it appears that posts expire after 6 to 7 days regardless of the end date you select.
Step Five
Once all of the information is entered, you may hit "Preview" to see how your ad will look on the Google search results page! The photo above shows you exactly what preview mode looks like.  If you'd like to make any changes, you can do so by selecting the back arrow button, which will take you back to the original entry window.
Step 6

Once you've reviewed your post, it's time to publish! Simply press the Publish button at the top right corner of your Post window to make this post available to the public.
Congratulations! Your Post is now published and able to be seen on Google. You'll be returned to the main My Business Posts page, where you can now see the new ad.
Wrapping Up With Google My Business Posts
At this point, you can go ahead and check out what it looks like on Google! In the photo below, you can see the post appear directly under the practice information.
When someone clicks on your post, the window will expand to reveal your full message, the social share button, and your "Learn More" button, which will link to the webpage you added to the entry. In the photo below, you can see what your ad will look like once a user opens it.