In another post we explained how Google Direct Booking through Google Maps and Google Search will change patient appointments. So far the booking tool is still limited to fitness and beauty.
Healthcare seems like one of the next verticals to be added especially since Google already has arrangements with companies such as Healthgrades and ZocDoc that allows patients to book participating providers on these sites without leaving the search results.
A new feature from Google My Business is a step in that direction. Google added the ability for doctors and healthcare practices to add an Appointment URL and Menu URL:
The Google My Business help section explains the orders and appointments feature for local businesses:
Google Search and Google Maps make it easy to order food delivery, reserve tables, and book appointments with select businesses found on Google…Links to booking options will appear automatically for eligible businesses. There's not currently a way to request this service for your business.
If this feature is currently available for your practice, this option is automatically enabled.
Below is a quick video to show you where to find the option to add your appointment and menu URL's. Once you log in to your Google My Business account, click on "Info" in the left sidebar. Then scroll down past your practice name, address, and phone number information. If you're eligible to add an Appointment URL you'll see that clickable box on the bottom. Some practices also have the ability to add a Menu URL. Other practices that we work with do not have that available yet, only the Appointment URL so, don't be too surprised if you don't see both options.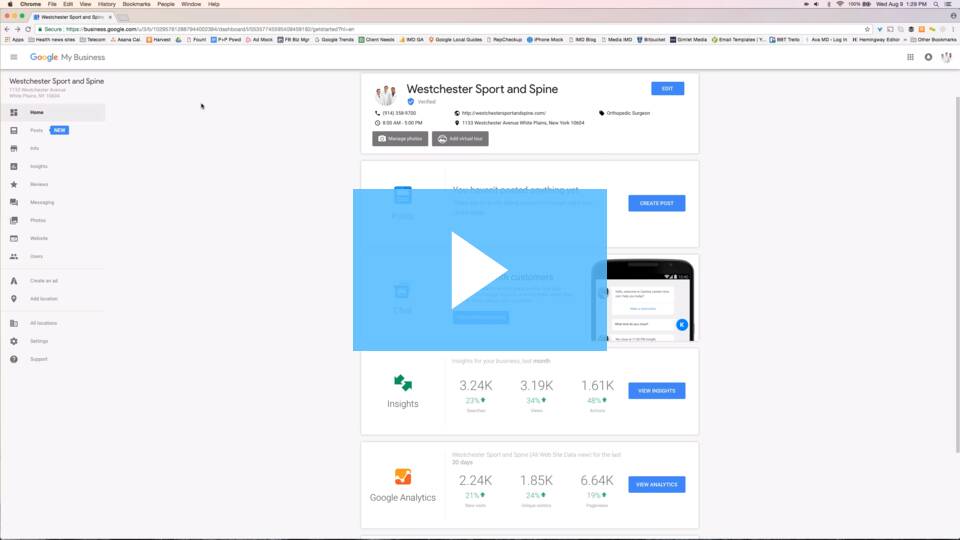 In the video example above we used the Contact page and Conditions page for the Appointment and Menu URL's, respectively:
Antonio Bologno, an SEO analyst, comments on his blog about this Google Maps listing feature:
It seems like a very helpful addition though I'm curious if this new feature will help increase our business' appointment lead volumes or if it will just further the decay of our need of personal websites if we can use Google Maps and a third-party tool for online appointments and reservations?
However, third-party appointment links, like those from ZocDocs for example, are not "actively managed by Google."
So, if you're more interested in having a patient book an appointment book through your own website, this new feature gives seems to give you more control by being able to dictate the landing page location.
Adding these additional links to your Google My Business profile is another step to provide patients what they need quickly when they searching for information about your practice. Click here to learn more about how to add online appointment requests to your Google My Business profile.